Responsibility
Step by step towards a Green Coffee Shop
Our sustainability report is here!
Last year, we realised that we are pursuing many small and large projects on the topic of sustainability,
all of which we would like to present in detail, in the spirit of "step by step towards a green coffee shop".
The result of months of work is our beautiful booklet, which will soon be available in print in the shops and can be browsed digitally here.
We are very proud of the content and design!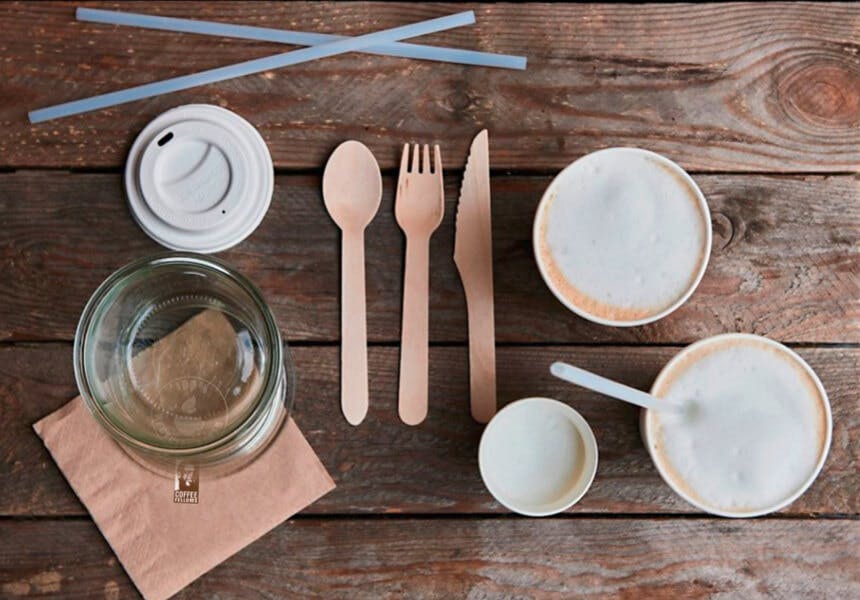 We care
As regards sustainability, it is a matter close to our heart both as entrepreneurs and as human beings to act as a role model for our guests and other catering businesses. We want to fulfil our enormous responsibility towards the environment as well as stimulate to generally rethink things in society.
Let's be honest:
Plastic-free straws are great, but using no straws at all is by far more sustainable!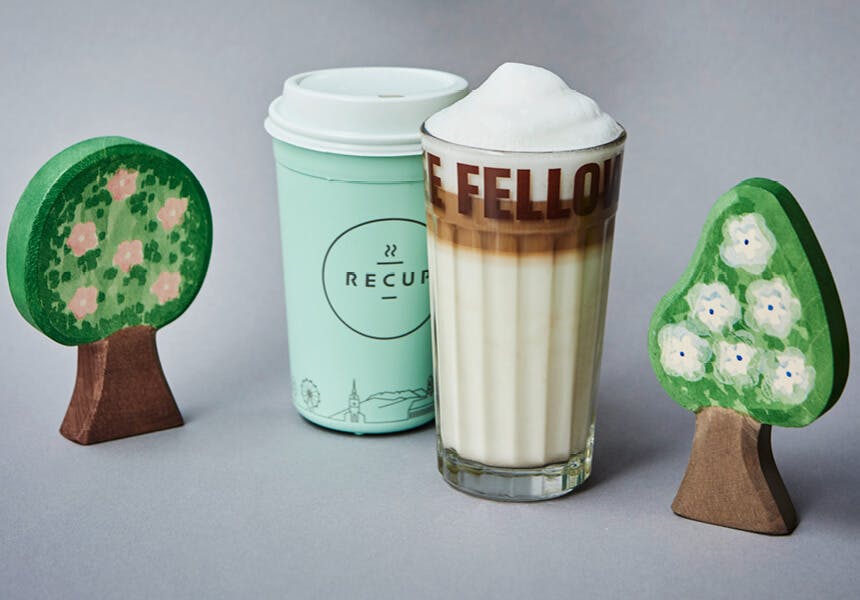 Sustainability – a big word with many facets
Many companies quite self-confidently assert that they act sustainably in every respect. Taking a closer look, however, you often get bitterly disappointed. We deliberately want to avoid disillusion with our guests.
Therefore our motto is to communicate quite frankly and honestly and primarily create transparency.
Where do we stand and where do we want tol go?
"We can state with good conscience that we think a lot about our social and economic responsibility. We are carefully adavancing, are innovative and are looking beyond the box. But we do know that we still have a long way to go and that we must never stop." (Stefan Tewes, General Manager of Coffee Fellows) 
 From the abundance of all important sustainability aspects, we are currently focusing on the following areas.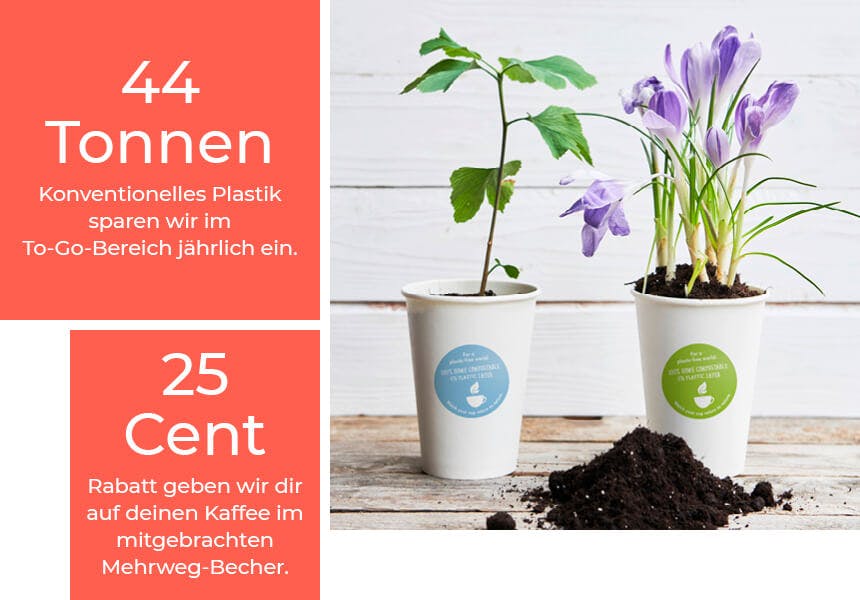 Avoidance of (plastic) waste
Where do we stand?
In close cooperation with our producer we have been developing since autumn 2018 new, innovative packaging alternatives for to-go needs. We are very glad to be able now to give our guests environmentally friendly packaging along on their way. We are particularly proud of our plastic-free and100 % home-compostable to-go-cups. Compared to conventional alternatives, the cups consist exclusively of cardboard. The cellulose for the carton of our Earth Cups® comes from sustainable forestry. As the cups do not have PLA-coating any more, they are disposable even on the domestic garbage or compost heap in the garden and are completely biodegraded after 26 weeks under temperature conditions of 20-30°C.
However, for the sake of the environment, we have removed from the range our clear-cups. Due to this conversion we roughly save 5.5 tons of polyethylene per year. Being produced from the natural material cellulose, our lids are also plastic-free and resource-conserving today. After usage, the fibre-shaped lids are recyclable, bio-degradable or compostable. Thus, with every replaced plastic lid about 2-3 g of plastic is saved.
Furthermore, today we are using only recycling napkins and wooden cutlery. On demand, our guests get a certified, bio-based straw for their cold drink. As we are of the opinion that straws, through their resource-intensive production, are much too good to end up in the trash after a maximum of 5 minutes of drinking fun, we no longer give straws for hot drinks.
Where do we want to go?
At present, we are thinking of a deposit system for our preserving jars so that we do not have to sell any longer muesli and fruit salad to go in a plastic cup. Besides, our goal is to get along completely without bioplastics in future. Here, we are still reaching the limits of current solutions. We are therefore always on the ball, gathering information and diligently developing. In a world that would be perfect for us, however, every guest would bring their reusable mug from scratch. We set an incentive for that and grant a 25 cent discount on the coffee drink.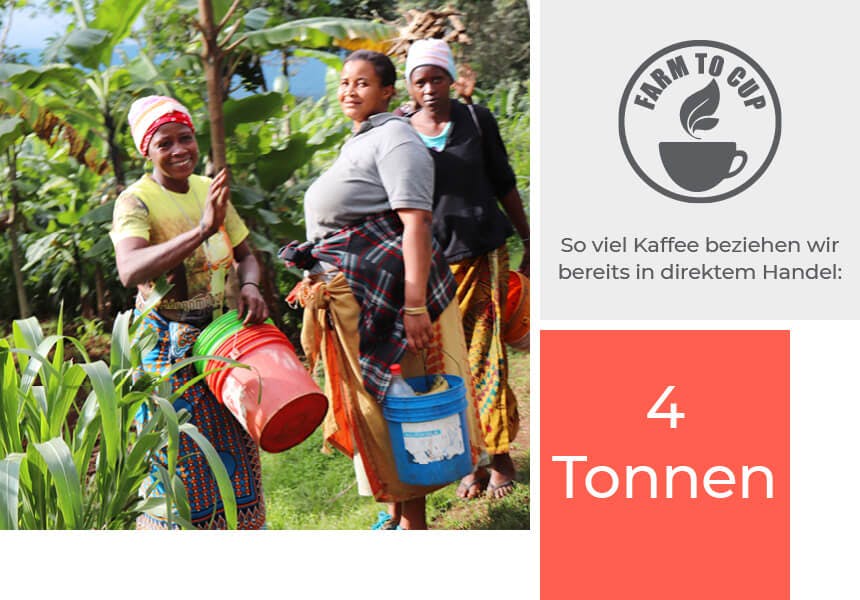 Fair Coffee trade
Where do we stand?
To us, behind the concept of "From Farm to Cup" stands entrepreneurial responsibility. We want to be involved in the complete value creation process of our core product and determine ourselves the origin of our coffee. It is since the summer in 2019 that we obtain our Arabica bean no longer anonymously via the world market stock exchanges, but directly from the coffee farmer in Tansania. We know the farmer personally and maintain a respectful long-term relationship with him. We guarantee him the safe purchase of his beans and pay him a fair price per kilo.
Fair means adequate quality and the real effort involved in one kilo of beans. So far, the bean has been processed in our Café Crème blend.    
Where do we want to go?
On our last trip to Tansania, we had the chance to get to know an entirely different, more original kind of coffe growing: private cooperatives organising themselves. Hereby, the owner of a bio plantation, who is lovingly called "Mama Bente" by the coffee farmers, plays a decisive role. Bente supports the local smallholders with her expertise and thereby helps them to be self-employed and independent. In private cooperatives, every coffee farmer, no matter how "small",  hands in for weighing on a daily basis their little basket with coffee beans. So, people with little cultivation area and equipment have a chance, too, to convert their beans into money. These farmers, however, have to wait for months until their beans get mediated through mill and agent and in the end get their wage for it. In future, we would like to obtain our Arabica bean directly via "Mama Bente's" private cooperative in Tansania. It is planned to pay the farmers 50 cent more for a kilo of coffee beans than they would get at the respective time via the world market stock exchange. We want to support the farmers with an advance payment in order to ensure a more regular income for them. This is important for them so they can finance fertilizers and the like. 
To gain experiences with this new kind of coffee supply, for now we buy only the Arabica bean "From Farm to Cup". It is our goal, however, to obtain also the other types of beans this way in the months and years ahead and thus purchase in an entirely self-determined and conscious manner.
Besides that, we keep our eyes and ears open in our visits to Tansania to understand the social problems and everyday challenges of the workers. We would be glad to take on social responsibility there in future by supporting on site. We think this is fair, in the end we enjoy their coffee, too.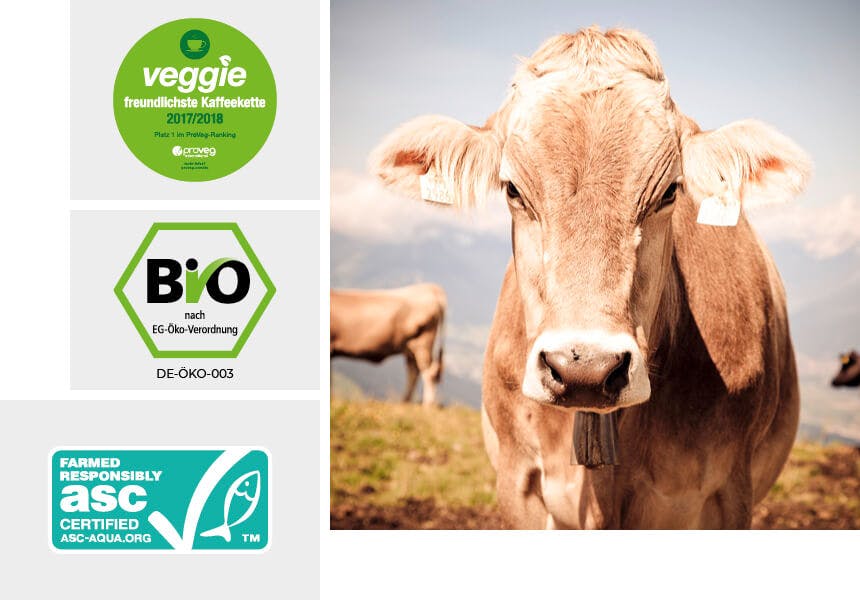 Conscious Nutrition
Where do we stand?
We have the view that conscious nutrition need not mean renunciation rather than balance. For example, you may start the day with Coffee Fellows with a whole grain bread rich in fibre, a muesli or a bowl full of vitamins. From time to time, you may, however, also do something good to your soul enjoying our sweet treats like a mini muffin with your cup of coffee.
For many people, a sustainable and conscious way of life is connected with a vegan or vegetarian diet. We too take the view that our vegetarian bagels taste at least as good as the meaty snacks. Not only for the sake of animal welfare, but also of our environment, we are constantly stocking up our vegan and vegetarian range of products. In 2017/2018 we were awarded by proveg to be Germany's most veggie-friendly coffee shop chain. If we buy animal products, we pay attention as much as possible to animal welfare. For example, you drink with us organic milk from Austrian cows and eat salmon that is exclusively ACS-certified.
We pay special attention to the reduction of additives in our products. Wherever it is possible for us, we do without preservatives and colours to guarantee the best possible taske. Therefore, our carefully selected organic tea diversity under Coffee Fellows' own brand "The T" contains exclusively high-quality, ecologically cultivated ingredients. Also in our Coffee Fellows smoothies there are only ingredients from ecological cultivation. That is why they are allowed to bear the organic zeal.
Where do we want to go?
Conscious nutrition for us primarily means to do one's body something good because it will thank us. It is our goal to check on every product whether we can develop it "clean". We not only focus on the ingredients, but also on the ecological effects of cultivation, livestock farming and transport routes. Thus we do something good not only to our body, but also to nature.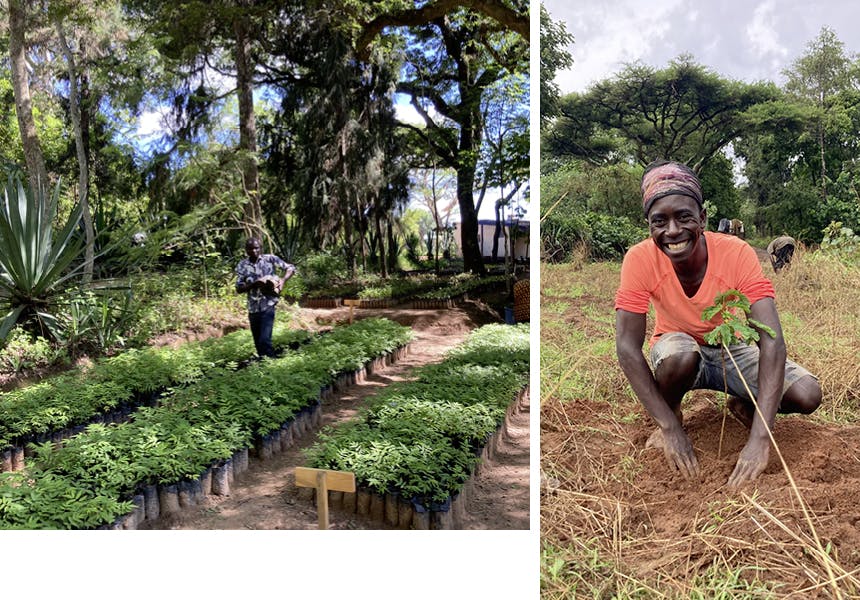 CO2 compensation
Where do we stand?
With our reforestation project in Malawi, we are still at the very beginning. At the end of 2020, we have just planted the first 13ha of land with saplings of native trees to offset our 2019 CO2 emissions and also create new habitats for wildlife. By paying an annual rent to the landowners for 20 years and employing around 70 people during the planting process, we will also be able to support the local population.
Where do we want to go?
We want to reforest another 13ha of land every year to compensate for our pollutant emissions and thus create a large "Coffee Fellows Forest" that not only absorbs CO2 from the atmosphere, but also promotes biodiversity in Malawi. It is still very important to us that we save as much CO2 as possible and only compensate for unavoidable emissions.
Small steps –big effects
Green electricity
Some 95% of our own shops in Germany buy green electricity from European hydroelectric power stations certified by TÜV-Süd
Deposit system for coffee-to-go
Many of our shops are RECUP partners. Here you get your coffee-to-go in a RECUP deposit cup and can return it with all RECUP partners in Germany.
Food Rescue
More and more of our coffee shops are active with Too Good To Go. Thus we were able to save many bags with bagels, sandwiches, muesli and cakes from the garbage bin.