This is what we do to protect against Covid-19
Learn more about our measures to protect against Covid-19.
This is what we do to protect against Covid-19
Our employees were trained again regarding all important hygiene rules and infection control. We pay particular attention to compliance with the rules of conduct.
Mask obligation: Our employees all wear mouth-nose protection and have been instructed in the correct handling for wearing masks.
Distribution of additional items: For hygienic reasons, sugar (portion sugar), milk and spoons are only issued upon request.
Current information status: We inform ourselves daily about the current situation regarding the Corona pandemic and the legal requirements, adapt our hygiene concept accordingly and keep our employees up to date.
Additional hygiene measures: Additional hygiene measures have been introduced for critical/ frequently touched surfaces in the guest area and behind the counter.
Prevention of infections at the checkout and serving counters: We ensure protection against droplet infection at all checkouts by installing protective Plexiglas screens.
Ventilation: We ensure regular and sufficient ventilation of the stores.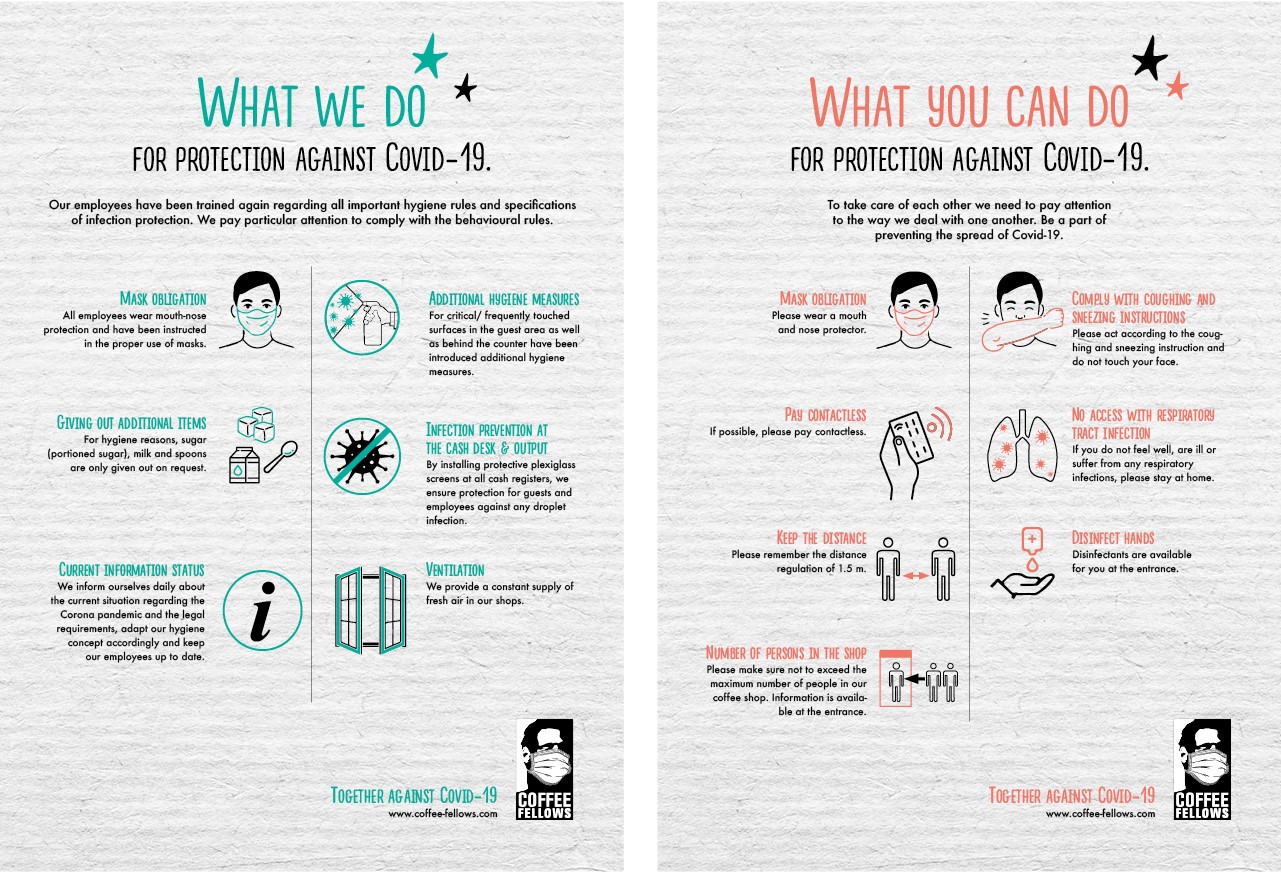 WHAT YOU CAN DO TO PROTECT YOURSELF AGAINST COVID-19
In order to take care of each other, we now need to keep a few things in mind when interacting with each other.
Help prevent the spread of Covid-19.
Mask requirement: Please wear a mouth-nose protection (except at the table).
Cashless Payment: Feel free to pay cashless when possible.
Keep your distance: Please remember the distance rule of 1.5 m.
Number of people in the store: Please do not exceed the maximum number of people in the coffee shop. Information about this at the entrance.
Adhere to cough and sneeze etiquette: Please adhere to cough and sneeze etiquette and do not touch your face.
No entry if you have a respiratory infection: If you are not feeling well, are sick or have a respiratory infection, please stay home.
Disinfect hands: Disinfectants are available for you at the entrance.